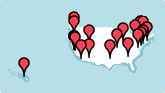 As of this writing, there are 17 city meetups and six Ambassadors in the United States.
Get in touch! Contact us at @OKFNUS on Twitter, join the US email list, or find your local Meetup, Ambassador,or Initiative below.
You can apply to be an Ambassador, here. Be sure to join and help organize a local meetup!
It's easy to start a meetup! Join and help organize them, here.